Your Trusted AC Company in Yulee, FL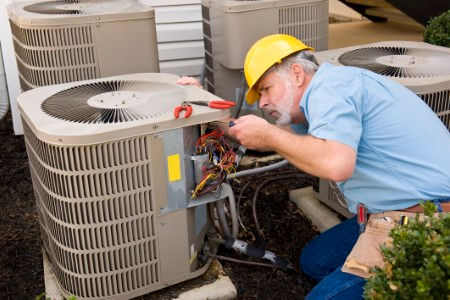 All Craft Mechanical Services Inc. has worked hard to earn the impeccable reputation we have as a premier Yulee AC company. The climate control system inside your home is responsible for keeping you and your family comfortable.
Yet, it's also about keeping your safe and healthy. It's a complex system and critical that you have a professional in mind to call on when you need service.
There's a big difference between a contractor and a specialist. When you're ready to have a Yulee team of experts working for you, get in touch with our company.
The Process of Hiring an HVAC-R Expert
The process of hiring an HVAC-R contractor for your Yulee household can be easy or difficult, and it's entirely up to you. An essential tip concerning the right approach to finding the perfect professional is about seeking out the right traits.
Established
Experienced
Dependable
Specialists
High Quality
One of the reasons we're so popular is we offer every service you'd need, including:
Emergency AC Service
Heating Tune-Up
Heating Installation
Automotive Air Conditioning
We're a company that was founded by a third-generation industry technician; it's more than a professional choice for us; it's a legacy. You can rest assured that we'll deliver superior results by going above and beyond to provide you with the work you need.
Make it a point to ask people you know and trust about who they would recommend for HVAC service. Even with this recommendation, you should also follow up by checking references.
It's always better to play it safe than sorry when it comes to work you receive for your home, business, or industrial building.
The Right Way to Approach AC Installation
Hiring someone to assist with AC installation work is problematic because customers assume there's only one way to install air conditioning. Of course, if that were true, it wouldn't matter at all who you contracted to do the work.
You'd be certain the work would be executed correctly without any concerns. Obviously, it's not as simple as that.
An inferior service provider can make mistakes and cut corners, all issues that end up negatively impacting you and your household. Signs that you may have received previous shoddy work are:
If you needed repairs regularly, starting not long after the install, it was either a faulty AC unit, poor installation, or a combination of both.
A newer air conditioner should be more energy-efficient. If you notice an increase instead of a decrease in your monthly energy costs, it's probably due to inferior install work.
Replacement is something you shouldn't even have to think about again for upwards of 15-20 years, as long as you stay current with maintenance. However, in the event of poor quality installation, your system will fail and require replacement much sooner.
When you're searching for a Yulee AC company, call us for the best possible quality.
Reviews & Testimonials on All Craft Mechanical Services Inc. in Yulee, FL
There are currently no reviews or testimonials for Yulee, FL. Check back soon!