The AC Company in Macclenny That You Can Trust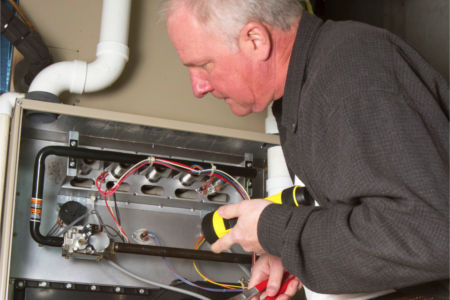 When you think of professional HVAC-R services, think All Craft Mechanical Services Inc.. The reputation that we've earned for being a local leading Macclenny AC company is one that we've worked hard for.
Until now, you may never have questioned what type of traits you should be looking for before hiring an AC contractor. There's much more to it than finding the first name you come across in an internet search.
Look for a company that's established and known for high-quality heating and cooling work, not just the lowest prices. When you choose us for your Macclenny home or business, you get quality work and affordable pricing.
Experts on Call for Your Emergency AC Service
Probably the most critical thing you can have lined up is an expert to take care of your Macclenny home. This is especially true when it comes to figuring out who will be there for you when you have emergency AC service needs.
There's no more accurate indication of the level of professionalism of a contractor than how they respond to an emergency. You should be able to expect the same treatment and work quality for emergency work as a standard service call.
Some common emergency AC repairs we get called in for include:
Drainage Issues
Refrigerant Leaks
Iced Evaporator
Frozen Coils
Faulty Compressor Fan
As the homeowner, you can take some steps before calling for emergency service, to cover your bases with basic troubleshooting. For one thing, stay diligent about scheduling tune-up service and changing the filters.
You'll be amazed how a little bit of preventative care can go a long way. Check the thermostat when your system seems off.
You'd be surprised how many homeowners accidentally turn the system off completely and think it's broken down. It will save you a considerable amount of hassle and finances to check the temperature control gauge first, including your app settings for Smart and programmable thermostats.
Don't Despair - Expert Care is Here!
It's a common mistake to assume that all heating, cooling, and refrigeration contractors do the same job and perform at the same level. By contacting All Craft Mechanical Services Inc., you're guaranteed high-quality service because we're industry specialists.
Know what type of work you need to have completed. As you get into more niche jobs instead of general tasks, you need the right pro. There are plenty of companies for AC repair, but what about automotive air conditioning.
Don't trust anyone who seems to want to take the trial and error approach to resolve your repairs. It ends up being frustrating and expensive for you but quite lucrative for the self-proclaimed industry technician to keep coming back.
Ask people you know. Ask unobjective, neutral parties you trust for recommendations for who they used.
We have your best interest in mind. Call us now for the best service from a Macclenny AC company.
Reviews & Testimonials on All Craft Mechanical Services Inc. in Macclenny, FL
There are currently no reviews or testimonials for Macclenny, FL. Check back soon!