Orange Park's Leader in Cooling Services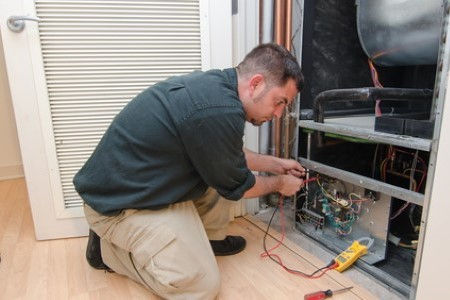 At All Craft Mechanical Services Inc., our professional focus is to be the best Orange Park AC company there is. As much as that relies on the quality of craftsmanship we provide, it's also about customer service excellence.
We're the industry experts, and we must assist our customers by helping them make good choices, not just provide exceptional parts and labor. The impeccable reputation we have was built on a sturdy foundation of superior quality service all around.
We're a company that was founded by a third-generation industry technician because this trade is our family bloodline. If you can buy it, we can install it, if you can't, we can build it.
We're here to offer Orange Park clients the one-on-one service approach that seems to be lacking in any industry these days. We're known for long term solutions instead of quick but temporary fixes.
Put Heating Tune-up to Work for You
Heating may not get as much use around here as AC, but it still makes an appearance each winter. It's that much more crucial that locals have functional heat because Orange Park residents feel the cold more since we're not acclimated to lower temperatures.
This is why heating tune-up is so necessary, and you'll reap benefits such as:
Eliminate Surprise Repairs
Lower Operational Costs
Improve Energy-Efficiency
Prolong the Lifespan
Enhance Overall Performance
Tune-up service is mandatory and shouldn't be viewed as optional. The upfront cost for maintenance is more cost-effective than the bill you'll receive for emergency repairs.
If you have a newly installed system, your warranty guidelines require a tune-up service. Fail to adhere to this and be able to provide documentation of ongoing service, and you'll void your coverage. That means you'll be paying for repairs out of your own pocket.
It makes good sense to schedule annual heating tune-up maintenance. Invest back into your heating system, and it will treat you right.
Why All Craft Mechanical Services Inc. is Your Team
When you want it fixed right the first time, call All Craft Mechanical Services Inc.. Repair needs don't always wait for regular business hours, so you need to have a company to call for emergency service.
Too often, homeowners contact the first name they come across without any previous experience working with them. There's not much point paying for shoddy repairs that will need to be fixed again by another professional.
You don't have to choose between quality or convenience when we can provide you with both. Call us now for affordable service from an Orange Park AC company.
Reviews & Testimonials on All Craft Mechanical Services Inc. in Orange Park, FL
There are currently no reviews or testimonials for Orange Park, FL. Check back soon!