Your Trusted AC Company in Callahan, FL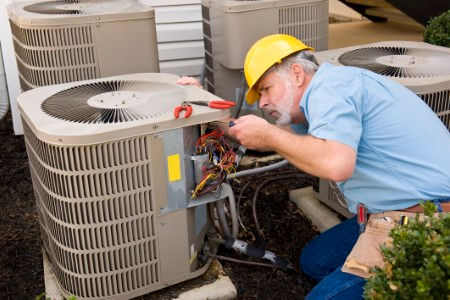 All Craft Mechanical Services Inc. is a quality provider when it comes to finding a Callahan AC company. We're the go-to team for HVAC-R mechanical services because we offer high-quality work and exceptional customer service.
Our goal is to bring back the one-on-one service and reliability that is often lost in larger corporations through several layers of management, and lack of support to technicians in the field. Yet, we want to make sure you get the level of personal service you deserve without paying an arm and a leg for it.
We keep our prices reasonable, so you get good value. That means superior service for your Callahan property for a reasonable price, instead of shoddy quality work for a suspiciously low price.
Variety of Essential Services
The first thing you'll notice about working with our crew is how committed we are to excellence; from the parts we use to the workmanship we employ, it's all topnotch. This is our approach for all of the services we use, and offering a wide assortment of services is part of what makes us exceptional too.
A few of the jobs we can take care of for you include:
Air Conditioning Installation
Heating Tune-Up
Heat Pumps Repairs
Industrial Refrigeration
Automotive Air Conditioning
As you can see, that's a pretty diverse variety of professional services. We work in Callahan and surrounding areas.
We also work with residential, commercial, and industrial clients. Our job is to make the customer happy while keeping your property comfortable, healthy, and safe.
The quality of work we do also ensures that our technicians and anyone in your home avoids injury as the result of shoddy work. Too many so-called pros cut corners and put everyone at risk.
How Installation Affects the Performance of Your HVAC
Unless you work in the industry, it isn't very easy to surmise the value of quality installation work. To the average homeowner, the finished job looks the same no matter who performs the work.
To an industry expert, it's easy to pinpoint flaws and mistakes, all of which impact you, the customer.
You can end up with too large or small a unit, and this will cause problems down the road.
When your contractor rushes through the job, your system may appear to work, but it won't work well.
Inferior install labor leads to a system that wastes energy, costing you each month with high energy bills.
Make sure the work is done correctly, the first time around. Call All Craft Mechanical Services Inc. for your Callahan AC company and get first-rate service.
Reviews & Testimonials on All Craft Mechanical Services Inc. in Callahan, FL
There are currently no reviews or testimonials for Callahan, FL. Check back soon!